High achieving students achieve GCSE success
Published on 22/08/18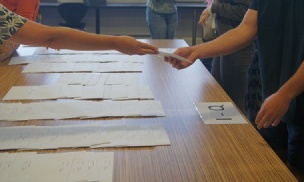 The 2018 GCSE results at Westfield School show some improvements from the previous year, particularly for high achieving students.
Head of School, Joe Birkbeck, said:
"GCSE results at Westfield are broadly in line with last year, with some noticeable improvements at the top end. We are particularly pleased with 113 top grades (of 8, 9, A or A*) being achieved overall.
"One student has even achieved a grade 9 or A* in every subject – ten in all! There are numerous students who have achieved the very highest grades, showing that high ability students can reach their true potential at Westfield.
"These students are excellent role models for those still at Westfield. For the first time ever we have a significant cohort of Year 11 students going on to study at Silverdale Sixth Form – because of our new partnership through Chorus Education Trust. We hope to see this number increase next year as even more students achieve GCSE success.
"We are pleased that the ambitious changes we have made over the past year are being to take effect. This has included setting more challenging, aspirational targets for students, as well as a new school ethos that focuses on students being highly ambitious for themselves. We have also invested in teaching and learning, to ensure that standards are raised, including recruiting 15 new teachers who will join us in the coming months.
"We won't take our foot off the gas and are determined to see this success spread further across Westfield School".