Newsletter, 10th December 2021
Published on 10/12/21
Good afternoon,
I hope that you and your families are well. Given the government's decision this week to implement 'Plan B' as a response to concerns around the increasing number of COVID cases, this week's message contains important information about the beginning of next term, as well as updates on events in school.
COVID TESTING IN JANUARY
Our return to school in January will be staggered as the most recent government guidance requests that all secondary schools prepare to test students on site as part of their return to school. This is part of the continued effort to reduce covid19 in schools and to help reduce the transmission after a period of social mixing during the holidays. Students will be offered one test before returning to school in January.
Students in Years 11, 10 and 7 are asked to come into school for tests on Tuesday 4th January. Students in Years 11 and 10 will remain in school after their tests. Students in Year 7 will go home and return on the morning of Wednesday 5th January.
Students in Years 8 and 9 are asked to come into school for tests on Wednesday 5th January, and will return to lessons following their tests.
We will require all parents/carers to give consent for their child to take a test and have it processed in school. This applies even if you have previously given consent for your child to be tested in school. You can give consent here.
Students without consent will not be tested in school, but should still come to school and register at the Sports Hall at their allotted time ready to begin lessons.
All details of the tests and their times, as well as link to the online consent form, can be found on our website. We will send a follow-up message
YEAR 8 HISTORY TRIP
Students in Year 8 are very much looking forward to visiting Sheffield's Showroom cinema on Monday and Wednesday of this week to watch the film 'Harriet' which links to their studies of the Slave Trade. This is our first large trip since COVID restrictions lifted, and we are pleased that so many students will be able to go.
Unfortunately, owing to some issues with communication and with Parentpay, a number of students have missed out on the opportunity to book onto the trips next week. We have therefore decided to create third opportunity for children to go on this trip in January and will contact parents/carers of Year 8s who have been unable to book onto the trip this time with details of this in the new year.
ATL REPORTS
Over the last week all our teachers have been submitting Attitude to Learning (ATL) grades for all our students. As you know, we aim to support all of our students develop an exceptional ATL. You will be sent copies of your child's most recent Attitude to Learning report next week via Weduc. As ever, we'd ask that parents/carers spend some time reflecting on these grades with their children, celebrating positive grades, and considering what could be improved if there are any subjects in which children have an ATL that is not good. You can find out more about ATL on our website.
CHRISTMAS WEEK FUNDRAISING
Our Year 11 student leaders have planned Christmas fundraising events every day of next week to raise money for our chosen charities – Yorkshire Air Ambulance and Bluebell Wood Children's Hospice. Our student leaders have written to parents/carers to share details of the events they have planned. The letter is available on our website here.
Students willing and able to contribute to the fundraising effort may want to bring a few pounds to school with them to join in the events. They are invited to wear non-uniform with a Christmas jumper theme next Friday, and may want to bring sports kit or even a Christmas-themed outfit to change into on Thursday to take part in our Santa Run! Please refer to the letter from our student leaders for more detail.
YEAR 10 MOCK EXAMS
We have now finalised our timetable for the forthcoming Year 10 mock exams, which can be found on our website. I have spoken to lots of our Year 10 students who have already begun preparing for these exams with the support of their teachers.
Parents/carers wishing to support their children with revision at home can find support here.
YEAR 11 MOCK EXAM RESULTS
Teachers have now marked all students' mock exam papers and inputted grades. Parents/carers of Year 11 students will receive copies of their report containing their mock exam grades and their 'Most Likely Outcome' grades next week via Weduc.
YEAR 8 ENGINEERS – WELL DONE!
Well done to William, Amelia, Rebekka and Josh in Year 8 who on Wednesday delivered a presentation to a number of professional engineers at a company called CBE+ in Chesterfield. CBE+ have a number of artefacts from the RAF Vulcan Bomber which they want to showcase. Our students' task was to create a design to support and display the Vulcan fuel tank. After many hours of work both before school and after, a concept was modelled and presentation honed to perfection. Our student team presented over a 2 hour period and to 5 judges and their design generated a real buzz with many people other than the judges interested in talking with them.
Eleven schools took part across the whole region and our team were the youngest students there, with many schools represented by 6th Form students. The model has been kept to showcase at the Get Up To Speed event at Magna next March and the students have been asked personally to help with the setting up of this huge engineering manufacturing event. Our students should be proud of the way they represented themselves and the school. We find out the winning team before we break up for Christmas.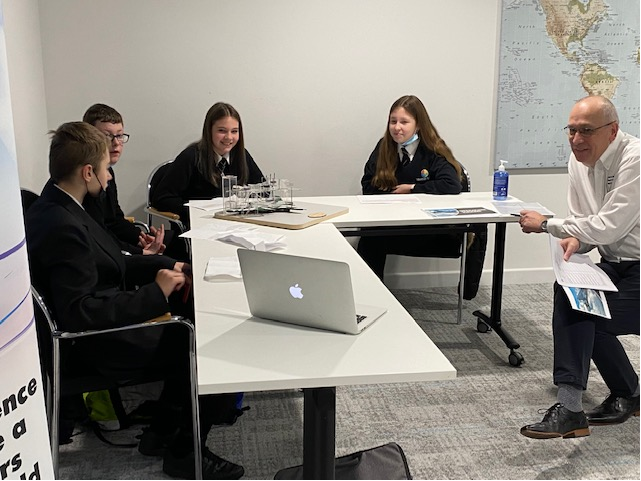 With many thanks for your continued excellent support.
Joe Birkbeck
Head of Westfield School