Reece's Day
Published on 24/06/22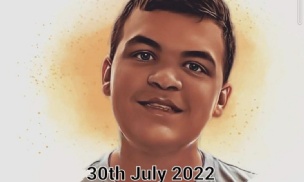 Reece's Day (30th July 2022) has been arranged on behalf of former Westfield Student Blake Simmonite in memory of his great friend, hero and former student Reece Winterbottom (2004-2021).
Blake vowed to keep Reece's memory and legacy alive after his passing aged just 16. Blake and Reece had been really good friends since the age of 5 and had faced many of life's challenges by one another's side. Reece very sadly passed away in May 2021 after having various recurring brain tumours, his latest tumour sadly was cancerous and terminal.
Reece's Day is about continuing to support Reece's family and friends with the sad loss of an amazing, inspirational young man. It's also about paying thanks to Bluebell Wood Children's Hospice that supported Reece, his family and friends. Reece spent his final months with his family in the amazing living quarters they have there and Blake was able to go and say his final goodbye, even when COVID had prevented him/them seeing each other as much as they once could, Bluebell Wood was a safe and welcoming place to help this happen.
The Day will also be supporting Brain Tumor Research, to help others in the future that may sadly be touched by this terrible illness, and raise funds towards vital research that hopefully one day will lead to a cure.
Blake has had the support of his family - mum Leanne, dad Wayne, sister Enya, as well as friends Sarah, Richard and Liam Butcher and got approval from Reece's dad Dave, stepmum Michelle and family to create 'Reeces Day'.
Reece's Day will be held at Beighton Welfare Recreation Ground. It will kick off with a football tournament from mid-day where lots of players have come forward to compete to win 'Reece's Cup'. There will be fun for all the family with games, stalls, bouncy castles, food and more. Entry will be from 1pm and charged at £1 per Adult. Each entry will be given a raffle ticket to be added to a draw to win a trip for a family of four to Disney on Ice at Sheffield Arena.
In the evening there will be an after party where family and friends will come together to celebrate Reece's Day (tickets available by contacting Leanne Simmonite or Sarah Butcher via facebook). There will be live entertainment, a photo booth, food, raffle and auction along with lots of fun and laughter. (Adults £10 and under 18s £5). Great prizes an be won including football match tickets, a TV, hair and beauty vouchers, vouchers for local pubs/food, tickets to escape, supermarket vouchers and much more.
Please come along and support this great cause - everyone is welcome and it will be great to see lots of Reece's school friends, people that knew him or just people that want to join us for a great day and keep Reece's legacy alive.