Westfield students celebrate GCSE results
Published on 23/08/22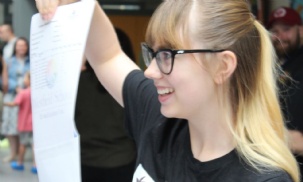 Year 11 students at Westfield School were in celebratory mood today as they received their GCSE and Level 2 vocational qualification results.
This is the culmination of years of effort, the last two years of which have seen the students face unprecedented challenges and disruptions to their learning. They have overcome lockdowns, moves to online teaching and illness to achieve the successes seen today.
The Westfield GCSE results are ones of which the students can be proud. 60% achieved grade 4 or higher in English and maths, with 47% being awarded a grade 5 or higher. A quarter of students achieved a top grade of 7-9 in English.
The school's results show improvements in all core areas, with notable increases in English, maths, science, expressive arts and languages. Vocational subjects showed strong performances, including catering in which 28% of students were awarded the top grade, Distinction*.
Head of Westfield School, Joe Birkbeck, said:
"It's been wonderful for Westfield staff and I to share this moment with our Year 11 students. They have shown resilience and have worked hard through all the challenges of the last two years to achieve the results that will take them on to the next step in their journeys. We are proud of them all.
"My thanks go to their families and to the Westfield staff who have worked tirelessly with our students every step of the way. These young people are now taking the next, important steps in their lives. Many opportunities are open to them as a result of their hard work and dedication. We wish them the best of luck, whether they are moving on to sixth form, college or into an apprenticeship."