New Term Update: September 2022
Published on 30/08/22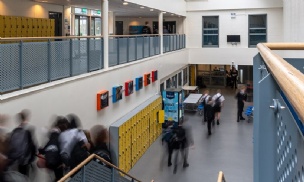 Read on for a message and video from Mr Birkbeck, Head of Westfield School to welcome students and their parents and carers back to school.
Video: Welcome Back, September 2022
EXAM RESULTS
Huge congratulations to our fantastic Year 11 students who have today collected their GCSE and vocational exam results. Our students have achieved some incredible results and the atmosphere in school on Thursday morning was very celebratory.
Congratulations also to those Year 10 and Year 9 students who have collected some very impressive results for 'early entry' GCSE courses.
We are proud that we continue to see grades for our students improve overall. Pass rates in English and maths both improved by 10% in comparison to our last set of exam results in 2019. The percentage of students achieving top grades of 7 – 9 also increased in math and English, which saw a 15% increase compared to 2019. Other subjects also saw big uplifts in pass rates, including science, languages, humanities and expressive arts.
Well done to all our students and thank you to our staff and to parents/carers for the support they have given to our students throughout a difficult past few years.
FIRST DAY BACK
A reminder that the first day back for students in Years 11 and 7 is Monday 5th September – with students asked to arrive by our slightly earlier start time of 08.30 AM.
Lots of staff will be available to support our new Year 7 students to find the right classrooms and teachers.
Students in Years 8, 9 and 10 will return on Tuesday 6th September for an 08.30 start.
MORNING GATE
From September our front gate will remain locked until 08.00 AM, from which time it will be staffed by key members of staff who will welcome students into school. This is a further measure to ensure the safety of all students on site.
UNIFORM
Thank you for your ongoing support in ensuring your child attends school wearing full uniform. Details of uniform policy can be found here.
If your family has any uniform at home that no longer fits, we would be very grateful if you could donate it to school via reception so that we can make it available to any family who needs it as 'pre-loved' items.
EQUIPMENT
School will again provide all students with lots of the basic equipment they will need to be ready for the year ahead. This will include: a planner, pens, highlighter, pencil, sharpener, eraser, rule and whiteboard pen. These will be provided to students along with their timetable on their first day back in September.
We ask that families provide a school bag, pencil case, scientific calculator and PE kit.
LUNCH/BREAK
You will be aware that we have reintroduced a morning break into our school day and therefore moved lunch to later in the day. Please note that students will not be able to purchase snacks or drinks from the restaurant at break time, between 11.00 and 11.10. The restaurant will be open to students at the following times:
Breakfast/snacks
All year groups: 08.00 – 08.30
Lunch
Years 9 & 11: 12.10 – 12.40
Year 7: 12.40 – 13.10
Years 8 & 10: 13.10 – 13.40
PERIOD 6/ENRICHMENT
For the third year running we will be running 'Period 6' sessions for all our Year 11 students every day. Period 6 is a 45 minute revision lesson that will take place between 14.40 and 15.25 each day.
In addition, we will again offer a wide range of enrichment activities, a timetable for which will be made available shortly after the start of term.
WATER DAMAGE
Students and families should be aware that unfortunately our school building has suffered some damage because of the very heavy rain that our area experienced last week. Our premises team are working hard to repair the areas damaged by flooding, however some areas may still be impacted. Fortunately, nearly all of our classrooms remain undamaged, however areas such as the library may need to remain off limits in the early part of the new term. We apologise for any inconvenience caused.
With many thanks for your ongoing excellent support.
Joe Birkbeck
Head of Westfield School