Newsletter, 26th March 2023
Published on 26/03/23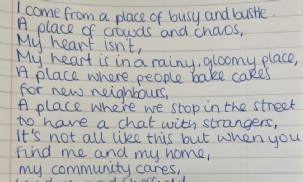 Good afternoon,
I hope that you and your family are well. What an incredible two weeks we have enjoyed at Westfield since I last wrote a newsletter! So many exciting activities have taken place, with much to celebrate. And there are lots more to look forward to in the weeks to come...
School of Rock
It has been a pleasure to watch our students perform in our production of School of Rock! I was lucky enough to see the production twice – on Thursday evening and with my family on Friday evening. The production could not have been more impressive, and the amount of planning and preparation that went into it cannot be underestimated. Most importantly of all, the production has given all the students involved the most incredible memories and experiences. Well done to all the cast and crew and thank you to the hundreds of people who came to watch the show over the three nights.
Year 11 Parents' Evening & Easter School
We look forward to welcoming parents and carers of Year 11 students into school this coming week for parents' evening on Thursday 30th March. The evening will provide a crucial final opportunity for teachers to meet with parents/carers and students and offer important feedback ahead of exams which begin in only five school weeks' time.
In addition, we are finalising plans for our Easter School revision provision for Year 11 and some Year 10 students and will be sharing individual invites with students ahead of the Easter break.
World Poetry Day
Tuesday was World Poetry Day and Ms Cooper from our English faculty organised for a visiting poet to work with Key Stage 3 children in poetry writing workshops. Students were challenged to author poems about growing up in Sheffield and produced some very funny and very moving poems which we have shared on the TV screens in school. Well done to everyone involved.
TIMSS Study
A group of Year 9 students from Westfield were chosen to take part in the annual Trends in Mathematics and Science Study this year. The study aims to assess how students in the UK compare to students across the globe in their achievements in these subjects. Our Year 9 students sat tests in both science and maths on Wednesday of this week. The visiting researchers who facilitated the study commented on the brilliant attitude to learning demonstrated by our students. Well done, Year 9!
Year 10 Work Experience
Our Year 10 students will begin their work experience placements in you two school weeks' time, shortly after we return from the Easter holiday. Most of our students have already secured exciting placements and are excited about the opportunity that awaits them. A small number of students are still to secure a placement and we would encourage those students to work closely with Ms Daughtry and Ms Radford next week to ensure everyone in the year group benefits from the experience.
Parental Surveys and Next Steps
Thank you to those parents who have completed surveys to give us feedback on our strengths and areas for development. We very much welcome your feedback, and it helps us to continue to make progress to become the best school we can be. Parents/carers of students in year groups that have already completed our surveys will receive individual letters summarising the outcomes of the surveys and our next steps.
In addition, Ms Tiffin, our Assistant Headteacher, will be writing to families next week to outline our plans to further improve behaviour in school, which we will implement after the Easter holidays.
Thank you, as ever, for your feedback and for your ongoing support of our efforts to keep improving.
Joe Birkbeck
Head of Westfield School