Summer Update 1: Uniform
Published on 23/08/23
To support a positive and smooth start to the new school year in September, we have put together a series of short video updates to help our students and their families know what to expect from September. Our first Summer Update focusses on school uniform and can be viewed here:
Why do we have a uniform?
Uniform helps create a sense of identity: In many walks of like, uniform is used to create a sense of identity, for example in sports teams and in public services like the NHS. All students should feel welcome and that they belong to our school community.
Uniform helps level the playing field: Like all schools, Westfield serves a diverse range of students, some from more affluent and some from less affluent backgrounds. Our uniform brings a level of equality to our school to ensure no student feels marginalised.
Uniform helps keep us safe: Our uniform allows us to identify Westfield students in and out of school. It also ensures students do not wear clothes that could create a safeguarding risk.
What is Westfield School's uniform?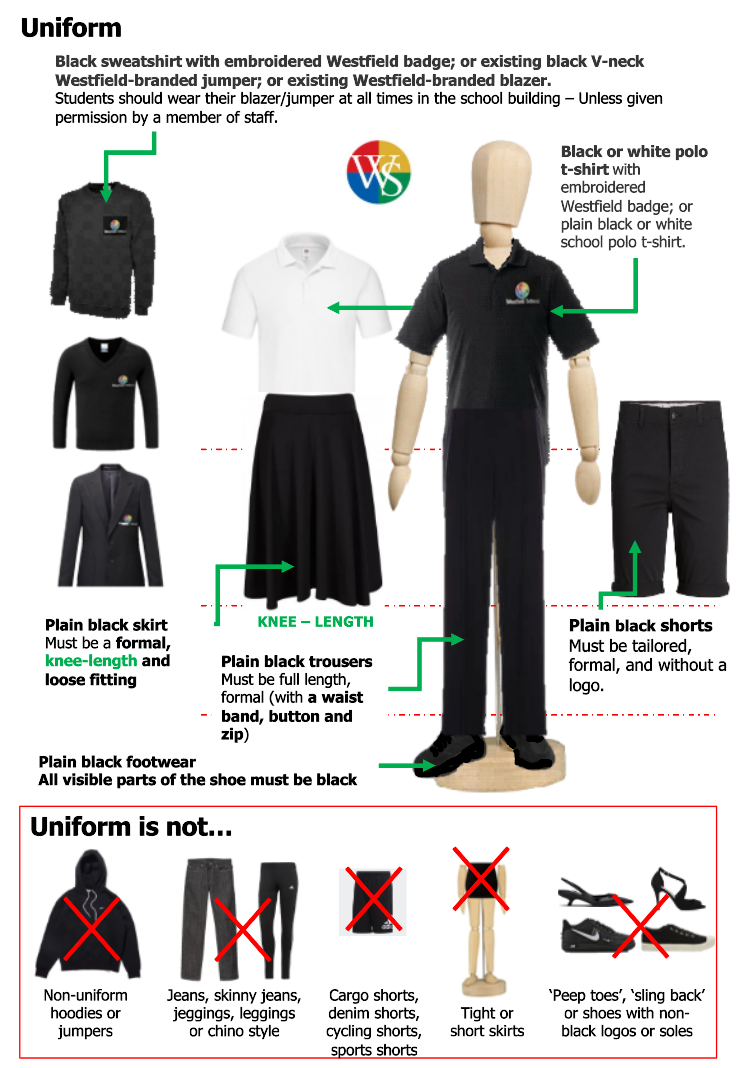 Black sweatshirt  with embroidered Westfield badge; or existing black v-neck Westfield-branded jumper; or existing Westfield-branded blazer. Students may not wear their Westfield PE hoodie, any other hoodie or sweatshirt.
Plain black or white polo t-shirt  with embroidered Westfield badge; or plain black or white school polo t-shirt. Students may not wear shirts/polo t-shirts that are not plain black or white. Branded polo t-shirts should not be worn – for example designer polo shirts.
Plain black tailored trousers.
These must be full-length, smart, formal trousers (with a waistband, zip and button). Students may not wear jogging bottoms, jeans, leggings or jeggings.
Plain black skirt.
This must be formal, at least knee-length and loose fitting.
Plain black shorts
These must be tailored, formal school shorts, without a logo. Students may not wear sports shorts, cycling shorts or shorts with logos.
Plain black footwear.
Students may not wear footwear that is anything other than all-black – for example black trainers with a white logo should not be worn. Please see guidance below. Pumps are permitted with a small logo, however no 'peep toes' or 'slingbacks'.
Non-uniform jumpers or hoodies:
Hoodies and any other non-uniform jumpers are not to be worn on site and will be confiscated by staff. In the first instance confiscated items will be returned to students from reception at the end of the school day.