Newsletter, 8th September 2023
Published on 08/09/23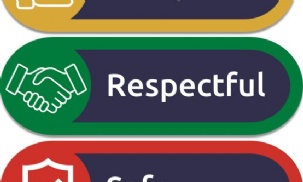 Good afternoon,
I hope that you and your family are well and that your child has enjoyed their first few days of the term. School is the busiest I have ever known it since I started working here over six years ago – we have almost 200 more students today than we did on my first day in September 2017. This busy environment creates a buzz of positivity that is infectious and I hope our students would agree with me when I say that I am delighted to be back and excited for the year ahead!
Well done, Year 7
Well done to our new Year 7 cohort who have made such a positive start to the school year. We have 300 students in Year 7 and they have all embodied the Westfield Way in their first days at Westfield, showing they are Ready, Respectful and Safe. They should be very proud of the start that they have made.
The Westfield Way
We have spent a lot of time at the start of the new academic year teaching our students what we expect of their conduct and attitude in school. Going forward we have summarised our expectations under the title The Westfield Way.
The Westfield Way provides a framework of rules to support students to make the best of their time at Westfield and thereby give themselves the best opportunity to achieve incredible things during their time here and when they leave. In assemblies this week I have shared examples of many former Westfield students who have achieved incredible things and gone on to exciting careers. More information on the Westfield Way and how it can support students to achieve incredible things can be found here.
Stamps
You will be aware that we reward the successes of students in the classroom with stamps each day. We aim to reward students with up to 3 stamps each lesson.
Stamp 1 is awarded for arriving Ready to learn and engaging well will the first phase of lessons.
Stamp 2 is awarded for remaining engaged and working hard throughout the lesson.
Stamp 3 is awarded to students who show an exceptional Attitude to Learning in lessons.
This year we will use stamps, as well as ATL scores, as a measure of which students should be invited on our rewards trips. Please check your child's planner on a regular basis and celebrate with them when they have been awarded stamps by their teachers!
Coming Up
Although the new term is only just getting going, we already have a number of important events coming up:
Thursday 14th September – Expressive Arts students in Key Stage 4 will enjoy a trip to the Theatre to watch Life of Pi.
Wednesday 20th September – students in Year 11 who showed an exceptional Attitude to Learning during Year 10 have been invited on a rewards trip to Alton Towers!
Wednesday 20th September – students in Year 7 and Year 10 will have their school photographs taken.
Thursday 21st September – we will invite Year 6 students and their parents into school for our Year 6 Open Evening. We will also be asking for student volunteers to be here on the evening to speak to Year 6 children about life at Westfield. Children will be issued with letters and permission slips if they volunteer to support the evening.
Uniform
A huge thank you to all families for supporting us with the changes we made to our uniform this summer. Our students look very smart in their polo shirts and many students have told me that they prefer the comfort of the new uniform.
We will ensure that all students attend school in full uniform every day, and as such will address any uniform issues each morning at the gate. Students arriving in non-uniform items or without their planners will be asked to go to our Ready Room at the swimming pool entrance to school where we will support them to resolve any issues, and thereby ensure all students in school are wearing full uniform. For clarity on our uniform policy and how we use the Ready Gate to enforce this policy, please refer to our summer update videos.
Summer Update on the Ready Gate
Mobile Phones
We have been clearer than ever with students from this September that mobile phones may not be used on our site. Students have responded brilliantly so far to the change which means that if students do bring a phone to school it must be switched off and kept in their bag from setting foot on site to leaving site.
Thank you to parents/carers for supporting this approach by not contacting your child on their mobile during the school day. As ever, urgent messages can be called into school reception so that we can pass them onto students. Further details on our mobile phone policy can be found here.
With many thanks for your excellent support,
Joe Birkbeck
Head of Westfield School