Nearly £5,000 raised for new library!
Published on 16/01/19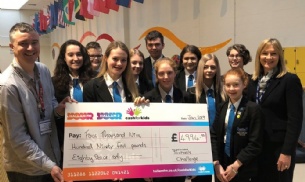 Thank you to everyone in the school community who helped us raise nearly £4,000 for our library fundraising campaign.
We were one of the runners-up in the Hallam FM Cash for Kids Schools Challenge, so this earnt us an additional £1,000.
Pictured above are the Rivelin Hall Ambassadors and Executive Head, Mrs Paul. They were presented the cheque by Allan from Hallam FM Cash for Kids during a Rivelin Hall assembly - as they raised the most funds out of all of the halls. Their 'prize' is to hear Mr Birkbeck and Mr Gardiner sing a Proclaimers song at their Achievement Assembly in a few weeks' time. Ear plugs will be optional.
We will continue to raise funds for the new library - which we hope to get up and running for the next academic year. We are applying for lots of grants, and will also be setting up a Friends of Westfield group in the coming months, to help organise other events, such as car boot sales. Information will be sent to you about this soon.
Once again, thank you for your patience and support. It was difficult raising so much money in such a short space of time - but it paid off, gaining us that additional one thousand pounds. That buys a lot of books!