Project: Make Someone Smile
Published on 05/05/20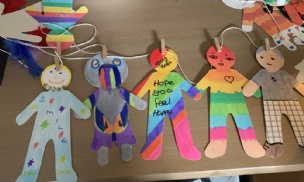 At this difficult time there are lots of people in Care Homes or Residential Homes who are not getting to see their families. The aim of Project Make Someone Smile is for students to write happy short stories or poems for the school to print and send to care/residential homes to be read out and cheer everyone up! A really worthwhile activity during such challenging times, especially for those who are more vulnerable in society.
It's been lovely to see so many students getting involved, and thank you to members of the English team for their organisation of the activities.
Westfield students who are still attending school during social distancing have also been involved in the story-writing process, as well as making celebratory bunting which includes positive messages for the care home residents. A great link to this week's VE day celebrations!
Here are some of the images from their story-writing and bunting-making session. We hope you enjoy them…and don't forget: MAKE SOMEONE SMILE!