Year 8 Football Coach Inspires Youngsters
Published on 30/03/22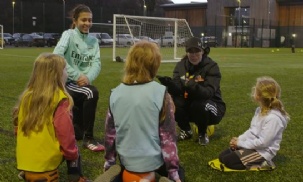 Year 8 Westfield student, Bella is putting her love of football to good use by coaching younger girls at sessions run by Sheffield United FC Community Foundation.
The sessions are part of the Empower Women and Girls element of the Premier League (PL) Kicks programme. This seeks to engage women and to be active, to feel stronger and more confident in their ability to take part in physical activity and sport and eliminate gender stereotypes.
Bella plays an important part in this by coaching younger girls at SSE Wildcats sessions in Westfield. A great footballer herself, this experience is enabling Bella to develop her own skills as well as providing inspiration to younger girls. It's a wonderful thing to do, and we are extremely proud of Bella.
You can hear more about Bella's work in Sheffield United FC Community Foundation's video: