Sporting success round-up
Published on 19/07/19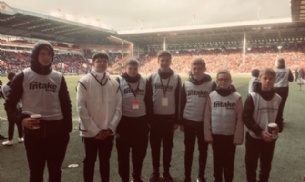 There has been so much to celebrate in terms of sporting success this year. You can view the latest round-up of sporting news on our Sporting Success page here.
Featured in the photo are the students who have given their time to help at Bramall Lane this last season. In this well-established partnership with Sheffield United the Westfield students have been a pleasure to supervise. They have always shown a dedication to duty by turning up in all weathers and willing to help out with any tasks needed by the club.
This year the vast majority of the volunteering was ball boy duties in front of the visiting supporters ,which is sometimes quite challenging !
The team picture from left to right is:
Kai , Danny , Lewis , Lewis , Ben, Jacob and Lucas. Also volunteering was Joe but he was missing from the picture.