Uniform and equipment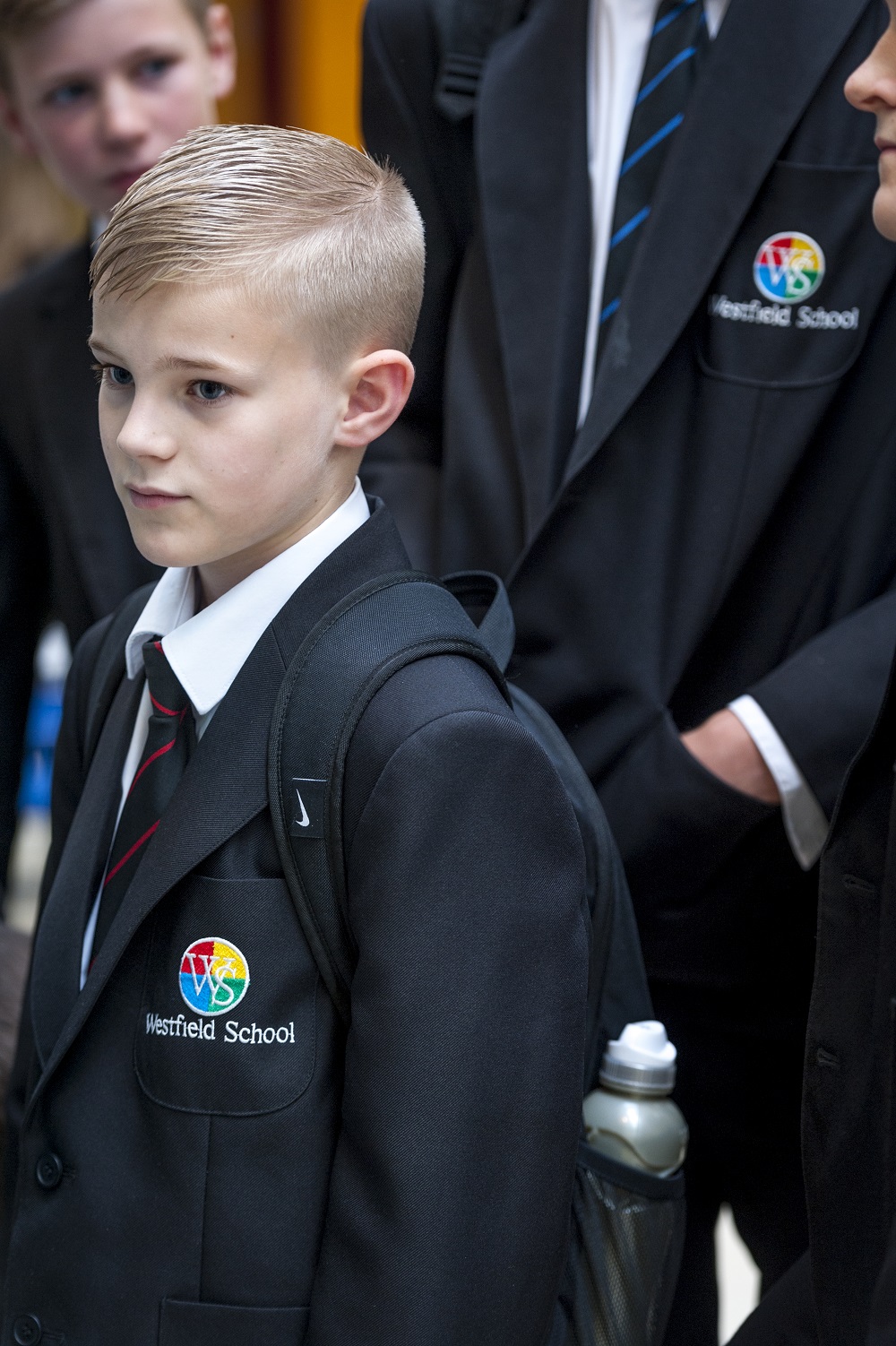 Why we have a uniform?
Uniform helps create a sense of identity: In many walks of like, uniform is used to create a sense of identity, for example in sports teams and in public services like the NHS. All students should feel welcome and that they belong to our school community.
Uniform helps level the playing field: Like all schools, Westfield serves a diverse range of students, some from more affluent and some from less affluent backgrounds. Our uniform brings a level of equality to our school to ensure no student feels marginalised.
Uniform helps keep us safe: Our uniform allows us to identify Westfield students in and out of school. It also ensures students do not wear clothes that could create a safeguarding risk.
School Uniform
uniform List
From September 2023 our uniform will be: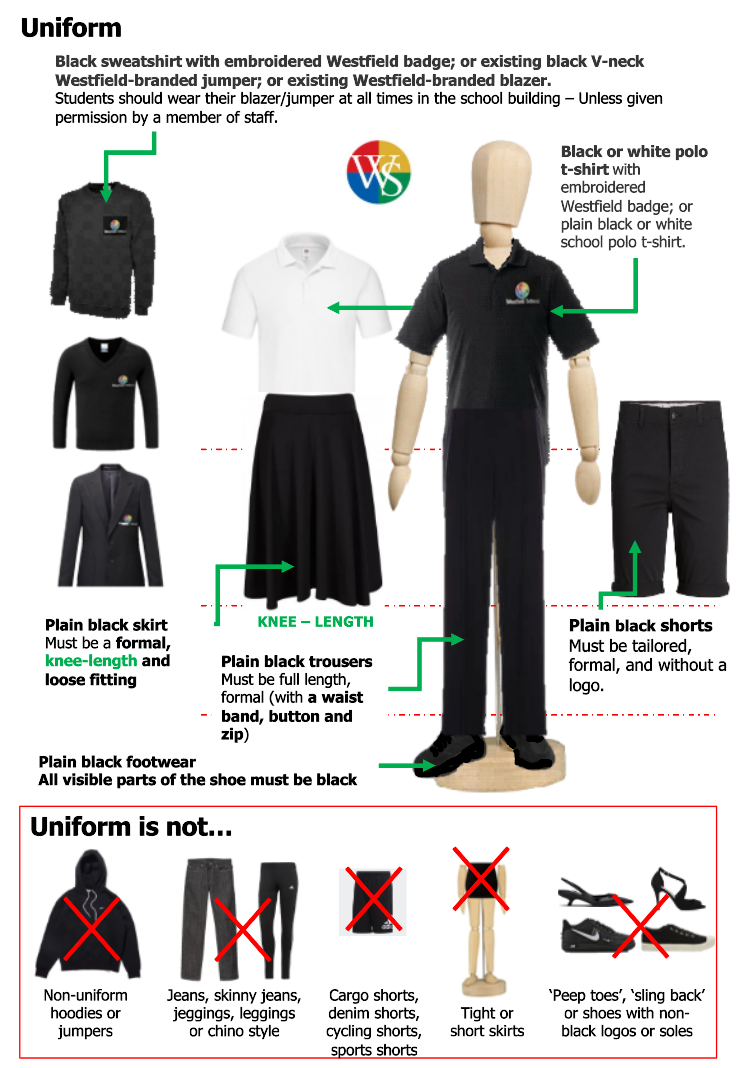 Black sweatshirt  with embroidered Westfield badge; or existing black v-neck Westfield-branded jumper; or existing Westfield-branded blazer. Students may not wear their Westfield PE hoodie, any other hoodie or sweatshirt.
Plain black or white polo t-shirt  with embroidered Westfield badge; or plain black or white school polo t-shirt. Students may not wear shirts/polo t-shirts that are not plain black or white. Branded polo t-shirts should not be worn – for example designer polo shirts.
Plain black tailored trousers.
These must be full-length, smart, formal trousers (with a waistband, zip and button). Students may not wear jogging bottoms, jeans, leggings or jeggings.
Plain black skirt.
This must be formal, at least knee-length and loose fitting.
Plain black shorts
These must be tailored, formal school shorts, without a logo. Students may not wear sports shorts, cycling shorts or shorts with logos.
Plain black footwear.
Students may not wear footwear that is anything other than all-black – for example black trainers with a white logo should not be worn. Please see guidance below. Pumps are permitted with a small logo, however no 'peep toes' or 'slingbacks'.
Non-uniform Jumpers and Hoodies
Hoodies and any other non-uniform jumpers are not to be worn on site and will be confiscated by staff. In the first instance confiscated items will be returned to students from reception at the end of the school day.
pe kit
Compulsory items of PE kit:
Westfield polo shirt/t-shirt or plain black polo shirt/t-shirt.
Black shorts, tracksuit bottoms or sports leggings.
Westfield hoodie or plain black sweatshirt/hoodie (to be used only in PE lessons).
Suitable sporting trainers are permitted; however, we do not allow the use of pumps in any form.
All students must have suitable swimwear; swimming trunks above the knee or a one piece swimming costume.
All jewellery to be removed.
Optional items of PE kit:
Westfield PE shorts.
Black jumper or sports coat for outdoor PE.
Shin pads are advisable for sports such as football and rugby.
Boots suitable for activities on the field are advisable.
All GCSE PE students must wear a Westfield GCSE polo shirt. This can be purchased through the PE department.
Mouth Guards:
We strongly encourage parents to purchase and reinforce the importance of wearing a mouth guard with their child, when taking part in curriculum rugby PE lessons.
Students taking part in extra curricular rugby fixtures and tournaments will be expected to have and wear a mouth guard in order to participate.
Ordering School Uniform
New School Uniform
You can buy uniform and PE kit from a number of local suppliers. If purchasing items over the summer period, please allow 4 weeks for delivery as this is their busiest time.
Our uniform providers are Logo Leisurewear, Pinders Schoolwear and School Trends.
Some non-branded items can be bought from any shop - please see the ticklist at the bottom of this page for full details.
Logo Leisurewear also offer an embroidered patch to purchase if parents/carers would prefer to add this to a plain blazer.
Second Hand School Uniform
Other Items
coats
Outside coats and scarves should not be worn inside the building. Students can use their school bag or locker to store their coat while inside the building.
When a student enters the school building, before school, and at social times, coats must be removed immediately. Students will only be allowed to put their coat on when they leave the building for social times and at the end of Period 5.
jewellery
On health and safety grounds, we do not allow students to wear excessive amounts of jewellery in our school. Students are not permitted to wear rings. Parents/carers should also be aware that tattoos, large or 'hoop' earrings, nose rings and other facial or muscle jewellery, including tongue piercings, is not permitted. We advise that all piercings should be carried out at the very beginning of the summer holiday to allow time for healing and safe removal at the start of the new academic year.
Mobile Phones/Smartwatches/Earphones/ airpods/buds
Students are not allowed to use mobile phones, smartwatches or earphones/airpods/buds at school. Any of these items that are seen or heard during the school day will be confiscated by staff and parents will be required to collect the confiscated item from reception. If a student chooses to bring any of these items to school to use after school, these items should be switched off and put away in bags at the Ready Gate prior to the student entering school grounds, and should remain off and in bags for the duration of the school day – including break times and lunch time.
False fingernails and fashion contact lenses
Please be aware that the above are also not permitted. Students who come to school in these will placed in School Remove until they are taken off.
equipment
We want to ensure that students are ready to learn in their lessons. Having the right equipment is key to this. It is important that students have their own set of equipment.
Every student is expected to have:
School bag, preferably a rucksack.
Student planner.
Pencil case.
Three black pens.
One purple pen.
Pencil.
Rubber.
Ruler.
Sharpener
Highlighter pen.
Whiteboard pen.
Scientific Calculator (can purchased through school).
Reusable water bottle.
At the start of the September term the school will issue a set of free equipment to every student.
student planners
We will give every student a paper planner in September which will contain their timetable, space to record home learning, and a page for each week to record reward stamps and behavioural comments.
Planners allow students to be more organised and for clearer communication between home and school. Students will be expected to bring their planner to school every day and have it out on their desk in every lesson. They are a key part of our rewards and behaviour system, and support the setting of home learning.
what happens if you don't follow the uniform and equipment rules?
Students are not allowed to go through the school day wearing non-permitted uniform. Student uniform is checked every morning by staff at the Ready Gate. If a student arrives at school wearing non-permitted uniform, they will be required to go to the Ready Room to change into uniform provided by school (blazers, jumpers, trousers, shoes). They will leave their non-permitted item(s) with school and swap back at the end of the school day.
Hoodies and any other non-uniform jumpers are not to be worn on site. If any of these items are worn by students on site they will be confiscated by staff.
Any confiscated items (non-uniform jumpers/hoodies, mobile phone, smartwatch, earphone/buds, etc.) will be confiscated by the member of staff. It will be taken to reception and can be picked up by students or parents/carers at the end of the school day between 2.45-4.00 pm, or on a subsequent day.
You can find out more about what happens when students do not follow these rules by reading our page about behaviour and rewards.